Ways to Donate to the Scleroderma Research Foundation

Make a Gift
Please choose the way that works best for you.
You can donate to the Scleroderma Research Foundation immediately.
Donate Online Now
Or Mail a Donation Check:
The Scleroderma Research Foundation
220 Montgomery Street, Suite 484
San Francisco, CA 94104
Please contact Kate Ceredona, Director of Philanthropy, at info@srfcure.org or 800.441.CURE (2873) with any questions.
Consider setting up a gift to recur monthly, quarterly, semi-annually, or annually. You can increase the impact of your donation to the Scleroderma Research Foundation by giving us the power to focus on our research, knowing we have a steady stream of support.
Make a Recurring Gift
Get more information on how to make a wire transfer or stock gift.
Wire Transfers or Stock Gifts
Learn more about donating using cryptocurrency.
Cryptocurrency Gifts
LASTING IMPRESSION
Make a Tribute Gift
You can make your donation to scleroderma research more personally meaningful by giving in honor or in memory of a loved one.
Learn More
Make a Planned Gift
Consider arranging for a gift now to be received by the SRF sometime in the future. Planned gifts are a great way to simultaneously take care of the people you love and the causes you care about most.
Give Through the Workplace
Many employers have programs available that make giving easy or enhance your gift.
Other Ways to Give
There are many ways to give, and we are always open to new options.
If you would like to donate or raise money for scleroderma research in another way, or have any questions about making a gift, contact Kate Ceredona, Director of Philanthropy, at kate@sclerodermaresearch.org or 800.441.CURE (2873).
MAKE A DIFFERENCE
Join the Cure Crew!
Cure Crew is a grassroots volunteer program with the goal of raising funds and awareness for scleroderma research. You can make a difference to the thousands of people living with scleroderma.
Learn More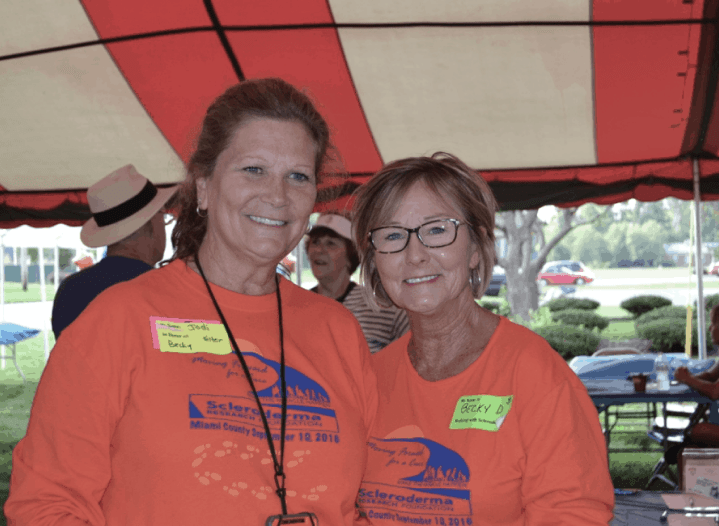 Your donation enables us to find, fund, and facilitate the most promising research to cure scleroderma. Thanks to the generous support of donors like you, we're able to continue to put research at the center of everything we do.
The Scleroderma Research Foundation has raised and invested more money in scleroderma research than any other nonprofit organization in the U.S. As a four-star rated charity on Charity Navigator, you can rest assured that your gift will be used to accelerate research to discover improved treatments, and ultimately, a cure.